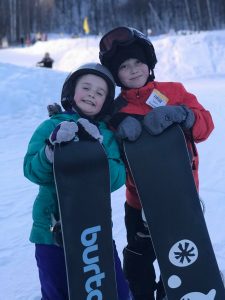 My kids are very athletic. Both play hockey, swim, skate and just love to move… constantly. Both were also inspired by the Winter Olympics and have been asking to try snowboarding. We finally had an evening with no hockey so we decided to take them.
We wanted a place that would have good lessons for the kids but allow my husband to also do some good runs. With 27 trails and 3 lifts the family-focused Morin Heights was the clear winner. We took advantage of their "It's my First Time" package which gave each child a 60-minute private snowboarding lesson, equipment rental and access to the learning trail and 2 runs on the regular trails for $69 each. If you wanted to go V.I.P. you could also get the 2nd and 3rd lessons for $90, which both include a 60-minute lesson and a 4-hour lift pass and full equipment rental. Designed to make anyone a skier or snowboarder the 3-visit package also offers a free season pass valid after February 17th.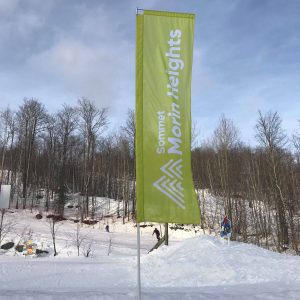 My kids were in heaven! Although Mother Nature had not co-operated the week leading up to their lesson, the warm weather and rain had not affected the hills. With my kids being tired after morning hockey, and the instructors both being a bit young, I was nervous. But like the well-groomed hills, like the instructors (Marc-Olivier and Olivier) impressed me. Well into the 60 minutes my kids were able to balance on the board and even made their way down the hill a few times. They had gained the confidence that they weren't bothered when their lesson was up, all they wanted to do was keep practicing.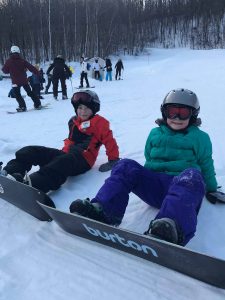 Since we had gone on a Saturday night, the added bonus was that my husband was also able to ski (as of 3 pm) for $37 including full rental, lift pass and a spaghetti dinner.  Only available on their site from Friday to Monday, it's a great deal. So great in fact there were a ton of new skiers on the bunny hill, which made it very interesting for my kids. So interesting that my husband decided not to take the kids on the regular trails for fear of being run over by a newbie barreling down the hill. The kids didn't mind though, they were happy getting bruised up practicing for the 2026 Olypmics!