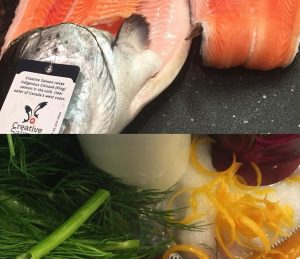 Although I come from a coastal town we didn't eat much fish growing up. Most of what we did eat was shellfish, cod and halibut. It was only when I moved to Montreal did I really start eating a lot of salmon and that was mostly smoked salmon.
When looking for an easy recipe to impress at brunch a foodie friend who knows I love all things Scandinavian suggested I try Jamie Oliver's beetroot vodka gravadlax.  His instructions are below, but you can also try Del's Cooking twist who has a similar recipe without the vodka.
For anyone looking for a healthier or keto option, you can make it without the sugar and it will still taste amazing!
The amazing trick is that you cure the salmon with the beets which gives it an impressively beautiful mutlicolor. I found that my salmon piece could have probably been double what he suggested and still have had the same flavor.
One other point is the recipe calls or salmon from sustainable sources, if possible go to a local fish shop and get a higher quality fresh salmon for this recipe.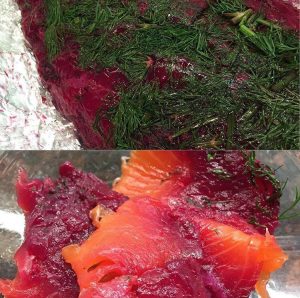 For serving the gravadlax, I cut it in very thin slices and served it in a pastry shell with creme fresh at brunch and a sprig of dill on top. It it also great on salad, as a side, with crackers and cheese as a pre-meal or as a meal. There are no shortage of uses for this amazingly easy but impressive dish.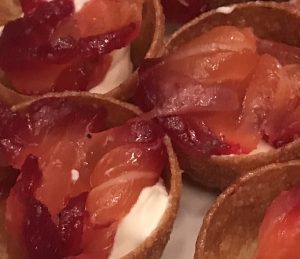 Scandinavian Beetroot Vodka Gravadlax
Ingredients
700-900g side of salmons, skin on, scaled, pin-boned, from sustainable sources.
10.5 oz/300 g raw beets, peeled
60 -100 g rock salt (around 1/4 cup worked well)
50 g granulated sugar (I used less than 1/4 cup, if you like sweeter go up to 1/2 cup)
50 ml vodka
1 big bunch of fresh dill (60g) roughly chopped
1 lemon
50 g/3 Tbsp fresh or jarred grated horseradish
Instructions
Peel and trim the beets and place in a food processor with the salt, sugar, vodka and dill.
Finely grate in the lemon zest, add the horseradish, finely grating it if fresh, then blitz until combined.
Rub a little mixture on to the salmon skin, then place the salmon on a large tray, skin side down, and pat the remaining mixture all over it so that the flesh is completely covered.
Cover the tray tightly with clingfilm. Pop a weight on top to help pack everything down evenly, then put the whole thing into the fridge for 36 hours. Please use your instincts here – if you have a particularly chunky side of salmon you may want to leave it for up to 48 hours to allow for proper penetration.
Once cured, unwrap the fish, then, holding the fillet in place, pour the juices down the sink and rub away all the salty topping (it's messy, so you might want to wear gloves).
Pat the fillet dry with kitchen paper, then tightly wrap in clingfilm (sometimes I like to cover the salmon with freshly picked dill before wrapping, for bonus flavour). Put back into the fridge until needed, where it will keep happily for up to 2 weeks.
To serve, use a long sharp knife to slice the salmon thinly at an angle and, as the knife touches the skin each time, kink it off, lifting away the salmon.
Arrange the slices on a board or platter as you go. Delicious with a simple salad and good wholemeal sourdough, as part of a seafood platter, served up at a party or even as part of a festive brunch spread.